"I like geography. I like to know where places are."
- Tom Felton (the actor who played Draco Malfoy in the Harry Potter movies)
We went to Cost Plus World Market last week to get chocolate Advent calendars, and my six-year-old daughter fell in love with and
just had to have
two globe Christmas tree ornaments. I gave in and bought them for her as a Christmas present because I thoroughly sympathize with her. After all, we did just have
her older sister compete in a geography bee
. It's neat to look at a globe and think about all the foreign and fascinating places, landscapes, cultures, and peoples represented by each different colored patch.
When the eye falls on Massachusetts this week, we in the USA remember the Pilgrims, who left their home of England and eventually made their way to North America in pursuit of freedom of religion, as well as the Native Americans who helped the newcomers survive as they adjusted to a new land. Joesette of
Learning Curve
recently studied this subject with her children:
Early Settlements Unit - Part 2, Plymouth Colony
. Her post includes a list of many helpful resources on the subject.
Celeste of
Joyous Lessons
in northern California shares some Charlotte Mason-friendly ways to celebrate Thanksgiving at
Cooking Up a Thanksgiving "Feast"
.
The blog
Home School vs. Public School
asks
What Are You Thankful For?
, discussing why we had the first Thanksgiving and asking us all "What are you thankful for?"
Henry Cate at
Why Homeschool
submits this post on
a few reasons he is grateful to be able to homeschool
.
Up to the north, the Canadians celebrated Thanksgiving over a month ago. One
homeschooled Canadian
living on a farm shares her thoughts on Canadian Thanksgiving in
this post
.
Down in Australia, Chareen talks about the experience of
Homeschool Burnout
on her blog
Every Bed of Roses
. I like how her very first suggestion to help with burnout is to get enough sleep!
In New Jersey, the
Liberated Learner
blog author explains why she homeschools in
How I Got Where I Am and The Problem with Schools and Parents
. She makes a good point about the statistical impossibility of everyone's neighborhood public schools performing as well as they are claimed to; for more information on this subject, I recommend looking at the
test-related research done by physician John Jacob Cannell
.
While some study geography as a major in college, it's definitely one of those subjects that can be learned on one's own now that we have the internet and easy access to copious amounts of information. For the autodidact, whether to attend a formal college institution (and thus incur very formal, non-dischargeable student loan debt) is a fair question, as
Barbara Frank
discusses in her post
Flashback Friday: More Thoughts About College
.
One subject that helps with geography is mathematics. From
Homeschool Math Blog
, we have the
Value of Mistakes
, an encouraging post about brain plasticity--the huge potential for our brains to grow--and then what it means for learning of math: EVERY student CAN learn math. Students need to have a growth mindset where they value mistakes and see them as opportunities for brain growth and learning.
My husband and I lived for two years in the Philippines when I was posted at the U.S. Embassy in Manila. We had a wonderful experience living there and love the Filipino people for their warm friendliness. While the Philippines are accustomed to natural disasters, this year has been a particularly trying one for the Visayas, the islands that make up the central part of the Philippines.
In October, there was a very destructive earthquake, mostly impacting Cebu and Bohol.
Then on November 8, Typhoon Haiyan (called Yolanda in the Philippines) blew threw the Visayas, leveling the coastal city of Tacloban and ravaging many other places,
leaving around 5,200 dead
and so many more homeless (you can donate to typhoon aid through the
Red Cross
). Because my mind has been on the Philippines, I searched out some Filipino homeschooling bloggers. Filipinos tend to work all over the world and generally speak English very well, making their blogs useful resources for the readers of the homeschooling carnival.
Athena
,
a Filipina from Batangas City who currently lives in Ruwais, a city in the Abu Dhabi Emirate on the Arabian Peninsula, talks about how she applies the SWOT matrix to evaluating goals and objectives in homeschooling her children enrolled in Preparatory for English Language Arts.

SWOT analysis

is "a structured planning method used to evaluate the Strengths, Weaknesses, Opportunities, and Threats involved

in a project

or in a business

venture" (definition taken from Wikipedia).
Several other Filipino homeschooler blogs include:
Learning about the world with my children is a wonderful adventure. Thank you to everyone for their submissions to this week's carnival (I hope I didn't miss anyone's!) and may you have a happy week of gratitude no matter where you live.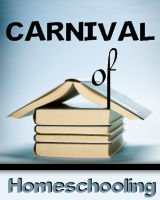 To submit a blog post to future Carnivals of Homeschooling, please use the information
posted here
at Why Homeschool.